Samantha Brennan: Making Space through Mentorship and Fitness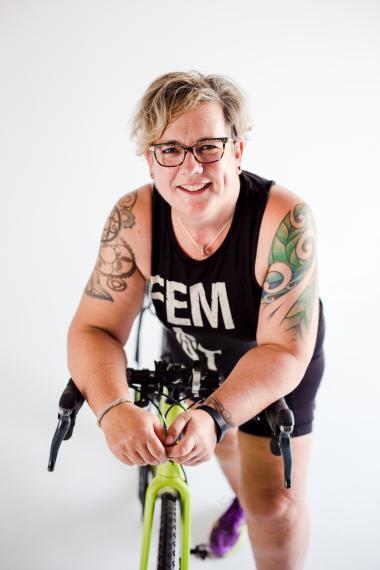 Written by: Omorowa Eguakun, MA
Samantha Brennan joined the University of Guelph as the dean of the College of Arts in January 2018. Before joining U of G, she was the chair of the Department of Philosophy and a faculty member in the Department of Women's Studies and Feminist Research at Western University. Brennan also continues her research and teaching pursuits at U of G, as a faculty member in the Department of Philosophy.  
As a researcher, Brennan's focus is on contemporary normative ethics, applied ethics, political philosophy, and feminist philosophy. Her research interests have always intersected with women's equality and access to 'the good things in life' such as relationships, education, and meaningful work, and particularly, ethical claims about what makes a good life and whether everyone has access to those things. There was a moment during her research when Brennan felt especially compelled to dig deeper – she discovered that boys become active much younger than girls, and that a surprising number of women would rather run in their sheds, or in unsafe conditions (e.g., at night) so that others wouldn't see them exercising. The more she found out about this, the angrier she got. "Being researchers, especially starting out, it's important to find things that bug you or don't seem right, and you need to know more. Find things where you think you have something to say," said Brennan. 
Questions like these led to Brennan's book, Fit at Mid-Life: A Feminist Journey to Fitness. Fit at Mid-Life started out as a conversation with her co-author, friend and colleague, Tracy Isaacs, about what fitness means and how to rescue the concept from oppressive ideals of fitness culture. Noting that many women want to feel less alienated in fitness spaces, Brennan worked to change the narrative – aiming instead to frame fitness as fun and an athletic achievement, and focused on experiencing the joys of movement, rather than dieting or disciplining the body. 
To Brennan, inclusion is important in every realm, including academia: "It's about making it possible for all sorts of people to be part of the university, whose lives do not necessarily fit the traditional academic model." "If we have a career that is shaped around certain expectations in life and a person (in this case, women) does not lead that life, we as an institution blame them for not being represented in that setting or not fitting the criteria. In reality, those criteria were built without including women in the first place," said Brennan. 
Universities take gender equity more seriously now, but in Brennan's opinion, there is still work to be done, especially in the area of just and inclusive treatment for Black and Indigenous scholars. 
In her position as dean, Brennan relishes in opportunities to work with committees who are recognizing the biases that appear in hiring processes and performance evaluations. Brennan also noted that one of her favourite parts of her role is mentoring non-tenured faculty members: "It's a great opportunity to connect with people in order to find out what works, doesn't work and how we as a college can provide support."  
Have an idea of someone or something we should highlight? Send us an email at genderequity@uoguelph.ca