Liz Cherry: In Unions, There is Strength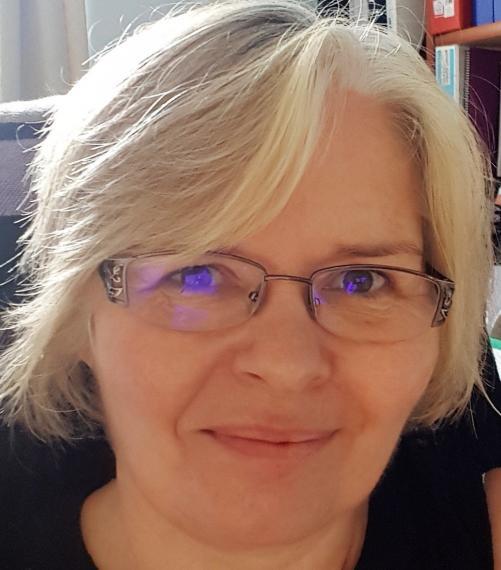 Written by: Omorowa Eguakun, MA
Liz Cherry is a woman deeply committed to workers' rights. She was a union activist in Scotland and is now president of United Steelworks Local 4120, the union representing technical and administrative support employees at U of G. 
Activism brings people together
Now serving her second term as president, Cherry's unique ideas get local members involved in ways that resonate with them. Her efforts include establishing the Women's Committee and providing opportunities for union members to engage in community service. 
Members of the Local volunteer at Life Centre in Guelph cooking and serving a meal once a month. New volunteers from their Local regularly join them. "We try to promote that we are an activist group, not just representation for our members – we like to get involved in all sorts of other community events and causes," says Cherry. Their volunteer work lets people know what the Union stands for while giving members an opportunity to get involved beyond regular meetings.
Trailblazing for women's rights 
Cherry's job is to be outspoken about issues members face, and she's not afraid of a little confrontation. In fact, she is more than happy to call out leaders and shine light on structural barriers. 
Being vocal has helped secure a women's budget for Local 4120. "Lots of memberships often have entire male executives, or a male mentality, where women do not have as much access to women's-only training or conferences," says Cherry. "We wanted to make a public statement about that through our budget, so that women do not have to go through men in order to take part in women's events." 
Gender equity is at the forefront Cherry's work as president of a Local in which 80 per cent of the members are women. Local 4120 has spearheaded several gender equity initiatives, and is currently revitalizing the gendered job evaluation systems that led to pay inequity for women. They were one of the first locals to have their collective agreement acknowledge issues around access to safety and support for members who experience domestic violence. Local 4120 also supports women in need, helping arrange access to safe spaces, support and childcare. 
So long as she has a voice, Cherry intends to use it.