Amy Atkinson: Advancing Hope Into Reality to Create a More Equitable World for All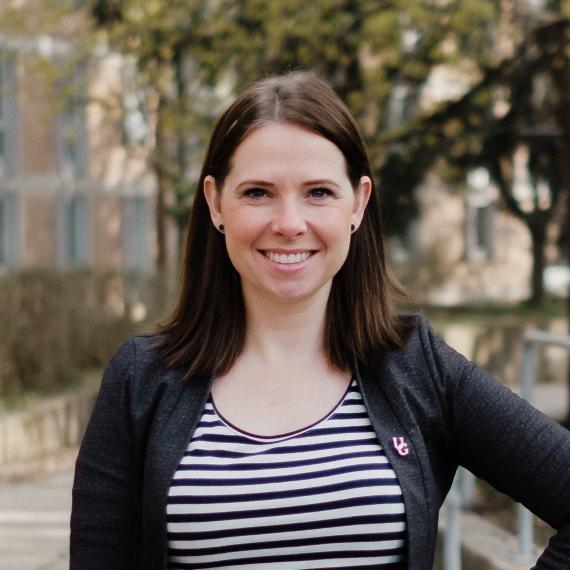 What is your position/role at the university?  
I have the privilege of working as a fundraiser for the University of Guelph in Alumni Affairs and Development. As Director of Major Gift Advancement, I oversee strategy and activities for our major gift and planned giving teams. We are focused on advancing core fundraising priorities to meet the University of Guelph's mission to Improve Life.
What was your journey to the position you are in now? Why did you pursue this career path, and how did you get here?
My journey began 16 years ago with a phone call to my parents. I was just about to graduate and decided that it was time to let my family know that I would not be going to teacher's college as planned, but rather had decided to give fundraising a try. The impact I had witnessed as a volunteer for the Cystic Fibrosis Foundation was so powerful that I just had to investigate what a career in fundraising could look like.
My journey to Guelph, and to this role, is one of personal growth, professional development and pushing myself outside of my comfort zone. I have worked for five charitable organizations, some focused on finding local solutions to healthcare issues, others looking to conquer national awareness in support of cancer research and heart disease.
I made a lot of mistakes along the way and tried my best to learn from them. I allowed myself the freedom to explore and to adapt to the ever-changing landscape of fundraising.
Do you have any advice for individuals who wish to pursue a similar path?
Go for it! If you like the idea of playing a role in changing lives and advancing hope into reality, then fundraising is a great career to explore. Try not to mold yourself to what may seem typical in terms of becoming a successful fundraiser and instead consider how your own strengths and unique characteristics can help elevate your career.
Be unapologetically yourself and be the person who goes for it. Learn as much as you can from mistakes and move forward with gratitude.
What does gender equity mean to you?  
I get nervous every time I am asked this question because I feel vulnerable about how my response will land, but if I've learned anything, it's that if you're passionate about something, you should take the risk and talk about it using good intentions and empathy to guide your way.
For me, gender equity is about fairness in how we treat each other as human beings. It goes hand-in-hand with intersectionality, acknowledging that everyone's unique lived experiences should be recognized and respected.
It is about encouraging all voices to exist, to be heard, and to be treated fairly within both personal and professional lives. Gender equity is about coming together to increase awareness, create space for understanding and advocate for change.
How have you seen gender equity change over time?  
For me, gender equity changed as both my personal and professional experiences grew. The younger me saw gender equity in black-and-white terms, focusing mostly on the unfair treatment of women, rather than the unfair treatment of the person.
While there is still a lot of work to be done in terms of the inequalities that women face, equity for me is broader now and while this may seem discouraging in terms of our advances over time, it feels more inclusive of the struggles faced.
More broadly, I would say that there seems to be more conversation and research related to both the physical and mental struggles that go hand-in-hand with inequality and that makes me feel that we have advanced our overall understanding.
How do you see gender equity influencing the university/the work you do?
The University has a large role to play in terms of promoting gender equity and we are seeing great advances in hiring diversely, reviewing compensation, acknowledging past mistakes and promoting a zero-tolerance environment for sexual harassment and racism.
More and more training resources are being provided to staff and volunteers, and we are placing priority on listening to stories and feedback from our community on how we can continually improve. I am impressed with the work that we have seen over the past 24 months, and I look forward to the University being a leader in this space by prioritizing these conversations.
How does having you in your role help gender equity?
I would like to think that I am conscientious of gender equity and challenge myself daily to reflect on how I can create an environment of fairness and understanding.
Being a Board Member of Guelph-Wellington Women in Crisis plays a pivotal role in my ability to promote equity and stand up for the rights of those within my community. It also sheds light on the volume of work that still needs to be done right here in our community to ensure that no individual is subjected to violence or oppression.
I am trying to learn as much as I can to continue being an advocate and supporter for gender equity and that means questioning my own assumptions along the way. It is something I think all leaders need to do to remove bias and barriers that may cloud our decisions.
My role allows me to inspire these conversations around my team table, and to create a safe space to advance our overall understanding of gender equity and the role that we can all play to support the University's efforts.