Tamara Small: Let's Get Digital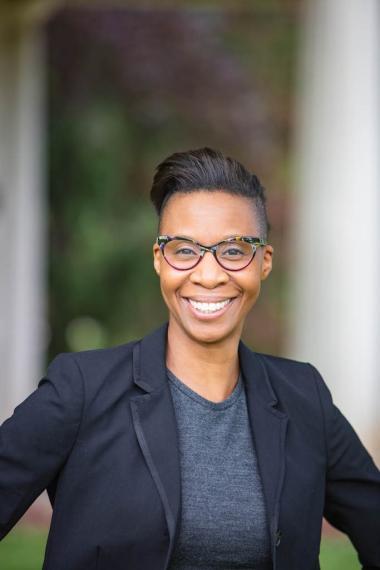 Written by: Omorowa Eguakun, MA
The social media drama surrounding American politics grabs headlines nearly every day, but how is this form of communication used to influence the Canadian political scene? Prof. Tamara Small can tell you about that and much, much more.
#WomenInDigitalMedia
Throughout much of her graduate work in communication studies, Small focused her attention on political websites. Now, as an associate professor in political science at U of G, her research explores how social media and mobile devices are used in Canadian politics. 
The role gender plays in social movement politics and Canadian media is outlined in Small's book Mind the Gaps: Canadian Perspectives on Gender and Politics. She recently researched how young women are using Twitter to express a new wave of feminism. 
Small says the use and experience of digital technologies is gendered. Recent headlines have highlighted the different social commentary women politicians receive compared to men. Unlike men, women politicians tend to be the target of public vitriol unrelated to their campaigns.
Fresh off a residency as a Fulbright scholar at Vanderbilt University in Nashville, Tennessee, Small plans to study the use of digital campaigning in the 2019 Canadian federal election.
#RepresentationMatters 
Small emphasizes that it's important to recognize women for what they do, not just their gender. 
She gave the example of a recent digital campaigning panel she sat on with other women of colour. To her pleasant surprise, the politicians and professors on the panel didn't talk about gender or race but focused on the topic at hand while celebrating interesting, smart and dynamic experts in the field. 
"Efforts like these matter," says Small. She believes just hosting panels about gender or race won't fix diversity issues. Rather, we should show equity in action by ensuring panels are diverse and representative, regardless of the topic being discussed.
Small wants people to see more women and more diversity in leadership roles. "Symbols matter because it tells people what is possible," she says. Gender equity is important at all levels of academia. Small explains the goal may not be 50/50 representation all the time, but says the opportunity for equal representation must be present. If it's not, she says we need to address barriers that contribute to that inequity.
Representation is a balance. Small tries to be a voice where she can, but explains it's important that racialized women not be the only ones to take responsibility for representation. 
Have an idea of someone or something we should highlight? Send us an email at genderequity@uoguelph.ca